Archived Material (C-I)
Secret Intelligence Service
04/2016
.
Testing 6-Mach Zircon hyper-sonic missile for 5G subs – Russian Federation
The presentation slide titled "Ocean Multipurpose System: Status-6" showed some drawings of a new nuclear submarine weapons system. It is apparently designed to bypass NATO radars and any existing missile defense systems, while also causing heavy damage to "important economic facilities" along the enemy's coastal regions.
The footnote to the slide stated that Status-6 is intended to cause "assured unacceptable damage" to an adversary force. Its detonation "in the area of the enemy coast" would result in "extensive zones of radioactive contamination" that would ensure that the region would not be used for "military, economic, business or other activity" for a "long time."
According to the blurred information provided in the slide, the system represents a massive torpedo, designated as "self-propelled underwater vehicle," with a range of up to 10 thousand kilometers and capable of operating at a depth of up to 1,000 meters.
It remains unclear if such a system is indeed being developed or the slide was presented as just one of the options the Russian military could hypothetically offer. However, according to the leaked paper, the weapons system could be developed by the Rubin design bureau for marine engineering, and may potentially be delivered using nuclear-powered "Project 09852" and "Project 09851" submarines.
.
Russia testing 6-Mach Zircon Hyper-Sonic Missile for 5G submarines
Initial trials of a sea-based Zircon hyper-sonic cruise missile have begun, – defense industry source. The secretive missile is said to be capable of flying five to six times the speed of sound. It is launched from a 5G submarine.
"Zircon hypersonic missiles are already there, and testing from a ground-based launching site has begun," – senior defense industry source.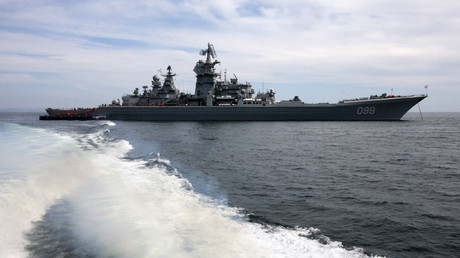 The new, highly secretive missile would be able to fly five to six times faster than the speed of sound, the source added.
Zircon missiles would be mounted on the newest fifth-generation nuclear-powered Husky-class submarines.
Features of the new hyper-sonic missile are not found in public sources. Earlier in February, it was revealed that the Russian Navy's nuclear-powered guided-missile cruiser Pyotr Velikiy (Peter the Great) would also be armed with hyper-sonic cruise missiles by 2022.
The cruiser will be refitted with the brand new multi-role 3S-14 vertical launch systems, which house three types of anti-ship missiles, including Zircon, Onyx and Kalibr – military source.
Zircon will probably replace P-800 Onyx and Kalibr NK missiles. Both have supersonic anti-ship capabilities, while Kalibr can cover long-range distances of up to 4,000 kilometers and carry a 500kg warhead. The combat-proven cruise missile was seen in action last year, when it was deployed against Islamic State's defenses in Syria.
Russia is also actively developing other hyper-sonic systems, such as BrahMos, a short-range ramjet missile based on the P-800 Onyx. A joint Russian-Indian project, BrahMos is a portmanteau formed from the names of two rivers, the Brahmaputra and the Moskva. Traveling at speeds of Mach 2.8 to 3, likely the world's fastest anti-ship cruise missile in operation.
Hyper-sonic weapons are missiles and aircraft capable of reaching speeds of Mach 5+ – 5x the speed of sound. They are extremely difficult to intercept due to their overwhelming speed and maneuvering capabilities. Hyper-sonic technologies in general, used in weapons systems and prospective aircraft, – a game changer in future warfare.
.
The Russian Defense Ministry has released rare footage of a Tor-M2U surface-to-air missile launcher firing on the move, a feat as yet not achieved by any competitor.
The launcher was driving off-road at 25 kpm/h and successfully hit a Saman practice target with the first missile fired, the ministry said. The test was performed this summer at Kapustin Yar test range in Arkhangelsk region.
Various models of the Tor short-range air defense system have been used by Russian Ground Troops, the service arm corresponding to the US Army in the Russian armed forces, for decades.
The capability to fire on the move is what distinguishes the M2U modification of the Tor. The benefit is that it can respond to a surprise attack and that a moving column doesn't need to stop to get protection, as was the case with the previous models.
Producer of the system, Almaz Antey, said at the time that teaching the old dog the new trick was challenging, but the result brings Tors to a new tactical level.
The ministry also released footage of a night test-fire of the S-300 long-range missile system, which was used to destroy a new target missile called Pensne (Pince-nez). The target mimics advanced fast-moving rockets and has been used in Russia for air defense practice starting this year.
The S-300 launcher used in the exercise was one of the newest S-300V4 modifications.
.
Russian S-500 Prometheus ballistic missile defense to be deployed in 2016
Russia's  S-500 Prometheus mobile air and space defense complex is expected to enter service 2016. The Defense Ministry is allegedly planning to order five S-500 complexes capable of intercepting ballistic and hyper-sonic missiles.
"We are expecting the first models of the S-500 air defense systems very soon," Russian Aerospace Forces Vice-Commander Lt.-Gen. Viktor Gumenny.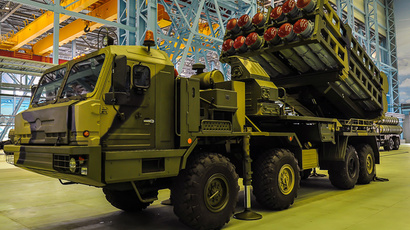 The long-range high intercept S-500 complex with extended ballistic missile defense capabilities is planned to enter operational readiness in 2016.
According to member of the advisory council of the Military-Industrial Commission Viktor Murakhovsky, the technical characteristics of the S-500 complex undergoing final tests will be second to none.
Open sources say the S-500 will be capable of simultaneously engaging up to 10 targets traveling at speeds of up to seven kilometers per second, which is an approximate speed of intercontinental ballistic missile nuclear warheads entering the atmosphere. The killing range of the complex is reported to be 600 kilometers, while the altitude of a target engaged could be near 180-200 kilometers.
Russian Aerospace Forces are reportedly planning to purchase five S-500 complexes up to the year 2020. The S-500 complexes are going to be integrated into the A-135 (and successive A-235) Moscow air defense system.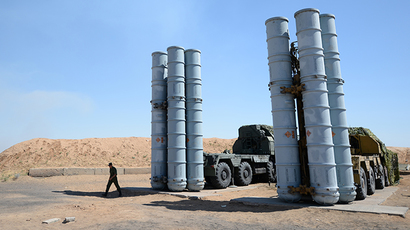 Another complex being readied by Moscow-based Almaz-Antey is the S-350 Vityaz (Knight) medium- and short-range complex that will replace outgoing S-300PS mobile SAMs.
 The principal difference between the S-350 Vityaz and the S-300 is the number of missiles: the S-350 launcher vehicle carries 12 missiles, whereas the S-300 has just four. This is due to modern missiles being more powerful, and so they become either smaller or achieve longer ranges with the same size.
The S-350 uses two types of missile, which are smaller, lighter and more maneuverable, doing better at ultra-low and maximum heights and with longer ranges than their predecessors.
The previous state-of-the-art complex, the S-400 Triumph already in service, has a range of 400 kilometers and can simultaneously attack 36 airborne targets with 72 missiles, with a target's maximum speed of 4.8 kilometers per second.
In March 2015, it was reported that final tests of the exo-atmospheric 40N6 missile system developed for the S-500 complex had been completed successfully. It was also said that the high-intercept 40N6 missile with a reported maximum operational altitude of 180 kilometers could be deployed with previous generation S-300 complexes. This would give the already highly modernized air defense systems near space capabilities.
 .
Russian army received twenty-one ballistic missiles, two submarines during 2015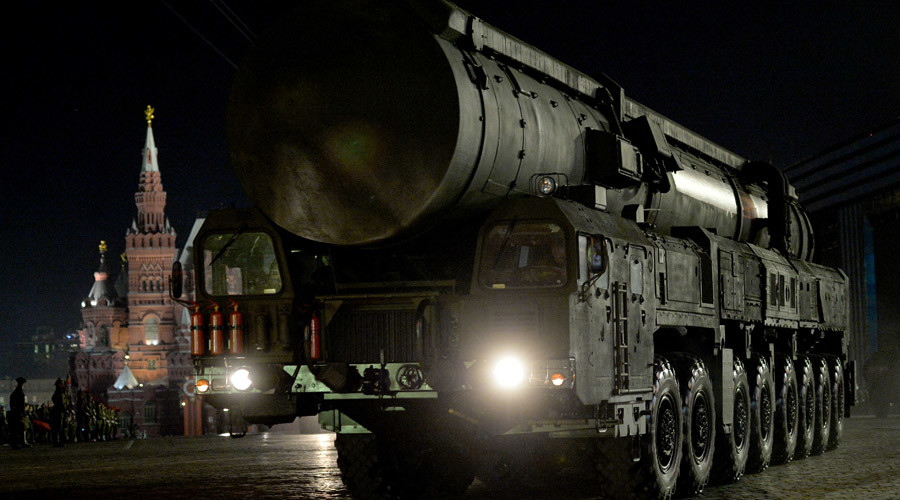 Two general-purpose submarines, 96 airplanes, 81 helicopters and 21 ballistic missiles were among more than 4,000 items of new military equipment received by the Russian armed forces in 2015.
The figures were released as Russia's President and Commander-in-Chief Vladimir Putin visited the National Defense Control Center Friday, overseeing the official commissioning of military goods. He said the list also included more than 400 units of artillery and combat vehicle arsenal.
The new equipment is already in use, the president said, adding that fighting terrorists in Syria has become a "serious test" for the modern warfare technology, especially for the aircraft.
New arms have been provided not only for the international anti-terror operation, but for the country's defense too. Russia's Strategic Missile Forces have received 21 ballistic missiles in 2015, and nearly 400 parts and units for fixed and mobile missile systems, Deputy Defense Minister Yury Borisov informed Vladimir Putin.
Defense Minister Sergey Shoigu – last year Russia's strategic nuclear forces received 35 inter-continental ballistic missiles. The strategic forces are to be equipped with 20 new such missiles this year.
The defense ministry has also put together a plan for major construction work for 2016, Vladimir Putin was informed. Military developments in western and south-western directions, as well as in the Arctic, have been defined among the priorities, – Ruslan Tsalikov, first deputy to the defense minister.
.
ADDENDUM
Re: Hyper-sonic warhead for future ICBM

SS18
SS19
Russian Strategic Missile Forces conducted a successful intercontinental ballistic missile launch, testing a hyper-sonic cruise vehicle, – a source familiar with the issue.
The test launch was performed using an RS-18A strategic ballistic missile (UR-100N, NATO designation SS-19 Stiletto) from a missile deployment area in the Orenburg Region, – source, the test was a success.
Russia's Defense Ministry has neither denied nor confirmed.
All modern nuclear warheads are delivered on targets using ballistic trajectory that can be calculated, therefore such warheads could be intercepted. Hyper-sonic warheads currently in design would be capable of maneuvering by yaw and pitch, eventually becoming impossible to intercept, thus making any existing and upcoming missile defense system impotent.
The new warhead is likely to be readied for the upcoming RS-28 SARMAT heavy liquid-propelled ICBM, which is expected to enter testing later 2016
Tests of the new Russian ICBM RS-28 SARMAT, which is  to replace the outgoing heavy silo-based Soviet R-36M missiles, dubbed "SATAN" by NATO, are likely to begin in summer 2016.
The RS-28 has been in development since 2009 and is scheduled to start replacing the old ICBMs in 2018.
The new missile, weighing at least 100 tons, will reportedly be capable of carrying a payload of up to 10 tons on any trajectory. This means an attack on a target could be made from any direction, i.e. RS-28 could start from Russia and fly in the direction of Antarctica, make a circum-terrestrial flight and hit targets on the other side of the planet from an unexpected direction.
The Russian military plans to put SARMAT in service in late 2018 and complete replacing older variants of Satan by 2020.
.
************************************
************************************
************************************  removed
Secret Intelligence Service
Archived Material (C-I)

.
Adversitate. Custodi. Per Verum